Create a great valentine puppet card you make your self and add your valentine wish to the heart your clown is holding.
First, print out the valentine clown on heavy paper or card stock.
Color the clown any way you like and then cut-out each clown part and punch a small hole at each of the small circles or swivel points.
After the holes are punched, line up the upper leg parts behind the body at the holes. Push a brad through the holes from the front to the back and then open the brad in the back Repeat this for the arms. (Use small paper brads about 1/2 inch long.)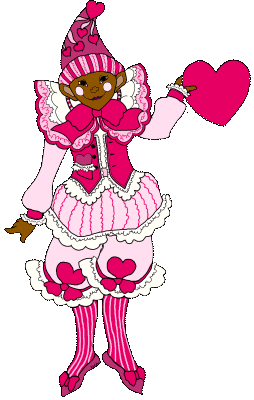 Next, line up the lower legs behind the upper legs and push the brads through from the front to the back and open the brad prongs in the back.
There are at least three ways to have fun with the clown puppets. You can punch a small hole at the top of the hat and hang the puppet on a string.
Or you can use double back tape or a thumb tack and stick them to some convenient object. (I have one of mine taped to my book shelf right near me!)
Or you can add a stick to the back and use it like a stick puppet or stick it in a pencil jar or flower pot. (one of my clowns really likes the pencil jar right on my desk.)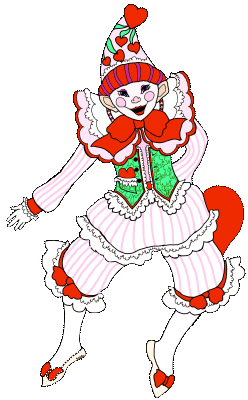 You can attach a long craft stick (or bamboo skewer) to the back of the main body by first glueing a small piece of Styrofoam to the back. Then push the stick into the Styrofoam at a slight angle with some glue on the tip (I use a stick about 12 inches long and always stick the pointy end into the foam).
For Styrofoam you can get a sheet of 1/2 inch and cut pieces about one inch by two inches or you can use a Styrofoam ball about one or one and a half inches, and cut this in half (For safety: A young child should be helped with this process.)
You can make more then one and use the stick on the back in one, punch a hole at the top of the hat in another and hang your puppet, and make another to give it to the person you love.
Someone we know hung their puppet on the wall and every once in awhile would secretly change its position
Have fun! Use lots of sparkle and imagination.
Be sure to write a love message on the Valentine heart the clown is holding.
I LOVE YOU! Aunt Phee
Happy Valentines Day!