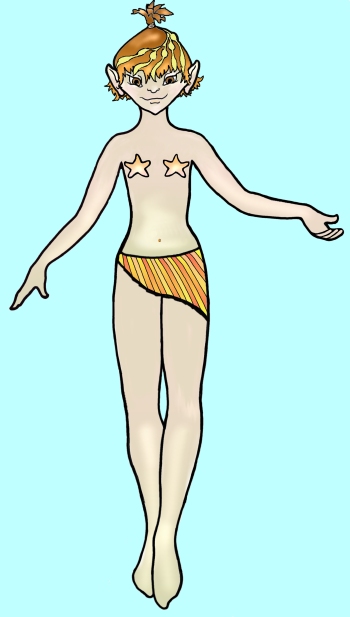 The elvin have been busy designing "sea costumes", somewhat like the diving suits that humans wear but with much brighter patterns and colors taken from the designs on fish.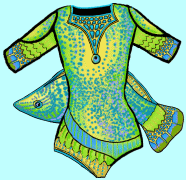 Well, you know how these little ones are, wanting all glitter and glamour but there is hardly anything they can think up that there isn't some lovely or outrageous looking fish to challenge their ideas.
What kind of sea diving suit would you design? Turn to the coloring pages for the drawings of two elves and the blank suits for you to design and color. Look for pictures of fish at the library or on the internet that have bright designs and use your imagination to take parts of those designs to use on your suit. You can enlarge certain areas or make them very small and repeat the patterns. This is the way some designers work when they use Nature as their inspiration. You can also design your diving suit any way that pleases you, using any images you desire.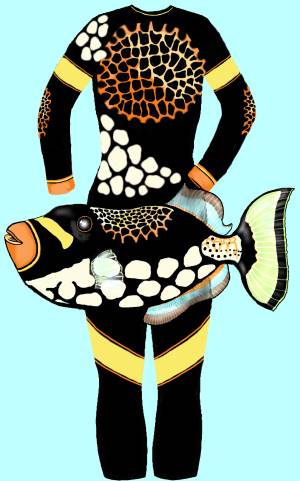 If you are human what would you take for diving gear to go underwater? If you are an elf or other creature of the magical realm, what would you need?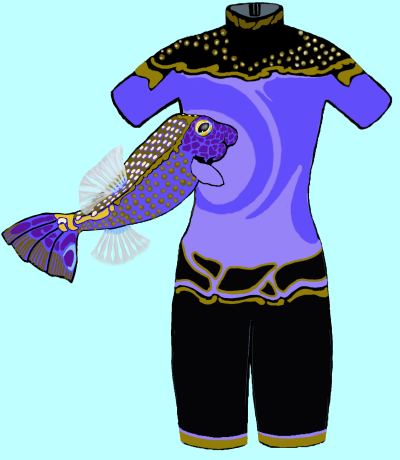 What would you pack your supplies in? Would you make everything yourself, or buy some of your supplies? What kind of food would you take along? Remember, on an imaginary trip you can take all your food covered in chocolate syrup, if you choose to.
Look for divers sites on the internet or for books or magazines at the Library and find out what divers need and use. Then use your imagination!
Sir Max Coloring Projects
Aquarium fish hot air ballons coloring project Faery fairy tale elfin elvin whimsey whimsy waggery elven wisdom whimsical fairy godmother crone maiden hero tales adventures elf trickster mischief children's playful picture stories child craft crafts project mystical magical weird creatures dragon dragons sea creature mermaid mermaids fish myth myths mystical traditions enchantment faery chronicles origional art for all ages, paint shop pro 7 paintshop