Midsummer in January?

When you live in Southern California, anything
is possible, and today it is 87 degrees.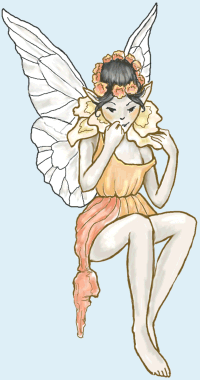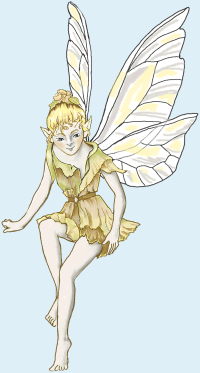 In 2008 I began to write the story for a puppet series of Shakespeare's
A Midsummer Nights Dream.
I held it off because of the Holidays but you can now find a New Section that will be devoted to all the Midsummer Nights Dream puppet characters with a lively dialogue from Phee.
If you begin a folder I will soon have a cover for you to paste on.
I love your feedback so please write to us with any questions or ideas for this series. Hopefully we will have all the puppets done by Summer 2009.


Recommended Reading for Valentine's Day

Wildwood Dancing written by Juliet Mariller:

It is the story of five sisters living in the ancient crumbling castle, Piscul Dracului in Transylvania who finds a portal to Fairy in a shadowed corner of their bedroom.
Every full moon the girls sneak away, crossing the 'bright between' in wondrous fairy boats to join the magical swirl of color and music, dancing the night away with the beautiful and strange beings of Fairy.
The companion book, by Juliet Mariller is also about this family and depicts the sister and scholar Paula traveling with her merchant father to Istanbul during the early Ottoman period to try and purchase an ancient Goddess statuette.
Again, there is great adventure and intrigue brought about in part by the Fairy working toward their own ends.
These are perfect Valentines books, beautifully and innocently romantic and yet full of adventure.


New Coloring Pages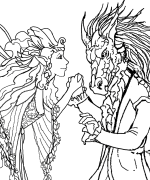 The new drawings are part of a fairy celebration. You will notice that three of the drawings are enlargements of fairies from Shakespeare's Midsummer Nights Dreams stories.

I thought it would be easier for some to color.



New Fairy Puppet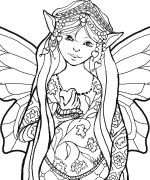 The Heart Fairy puppet, is a way we are trying to make the figures with long skirts free standing.


Commitment of the Heart
Deepak Chopra, one of the truly wise and loving men of our time, has invited the Human world to look into their hearts and make a serious and sacred commitment to Non-Violence, in their thoughts, speech, and actions.

You can log on to www.itakethevow.com to join the thousands who have already taken this vow. (I renewed my vows, for I made this commitment many years ago.) Then pass this information onto at least two other people and encourage them to take the vow.

Deepak Chopra's goal is to touch the hearts and minds of 100 million people and through each vow of nonviolence create a shift in consciousness to world peace, harmony and love. Isn't it what we all truly want?



Friends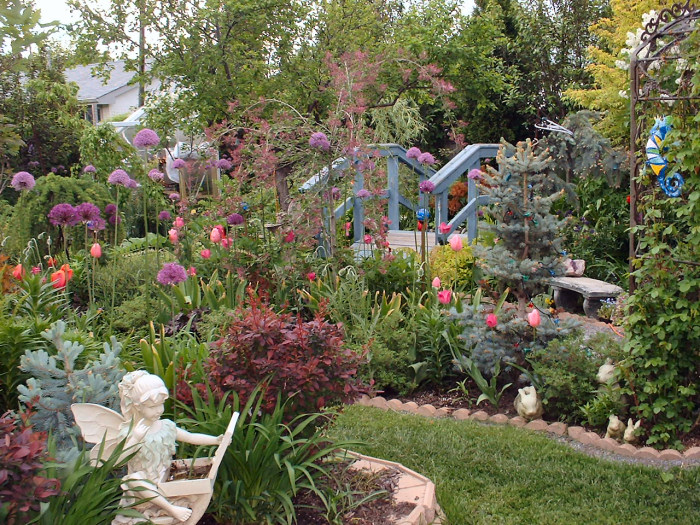 Marcie sent this photo of her 'fairy garden'. It is probably under snow right now sleeping and dreaming of new Beginnings. Oh so lovely for those of you who live in the cold climates to see and dream of too. Thanks Marcie.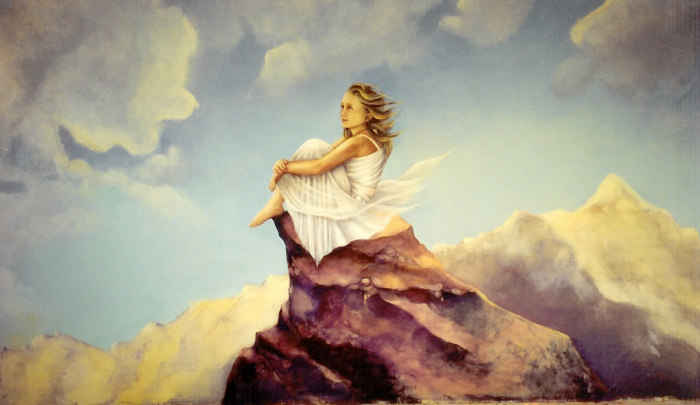 Our friend Gina is an artist in the San Diego area who does wonderful Trompe L'Oeil, Murals and Faux finishes. The following photo is of a wall mural with a portrait of the young girl whose bedroom wall it is painted on. Thank you for sharing this beautiful painting Gina. I have known Gina since she was a wee babe and it is wonderful to see her progress as an artist. You can see her work at www.ginafaulk.com



Young Colorist
Thanks to two young colorists Sami and Sara from Manitoba, Canada, for their beautiful work, that you can see here.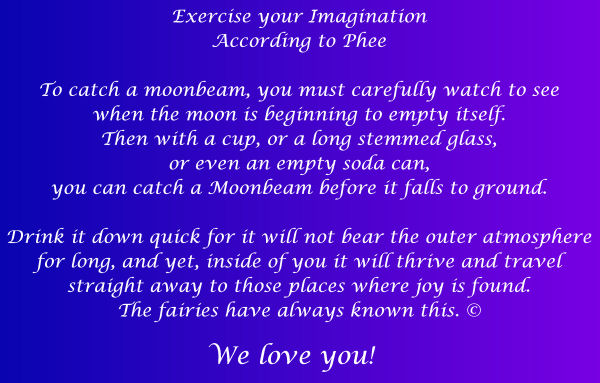 Cards and prints from the World of Phee
all from artist Nea Wiseman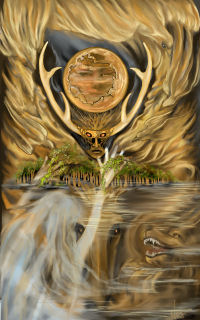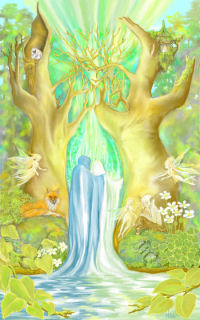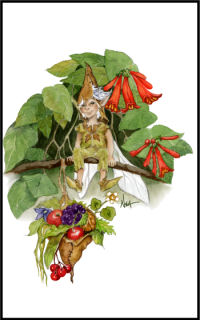 Phee's Market Place
Main Menu